Ambulance Paramedics of
British Columbia
The Ambulance Paramedics of British Columbia (APBC) is the union that represents over 4,500 Ambulance Paramedics and Emergency Dispatchers in the province of BC, Canada.
Our members cover almost 1,000,000 square kilometers of land in BC, making us not only one of the largest providers of emergency medical services in the world, but one of the most versatile.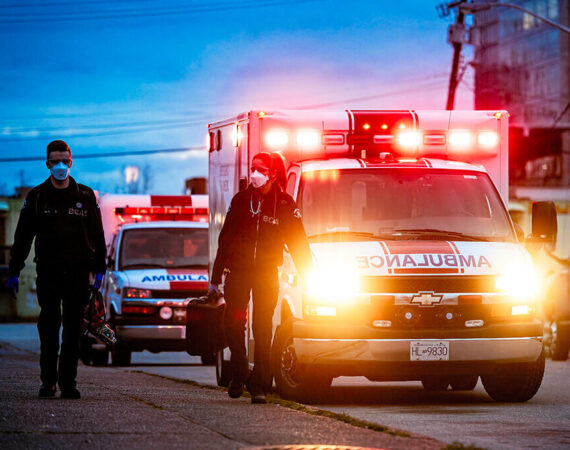 When you have a medical emergency in British Columbia, and you call 911, you're going to speak to one of our highly trained emergency call-takers EMCTs) or emergency medical dispatcher (EMDs)s.
While on the phone with one of our members, they will give you instructions and information (sometimes life-saving) while they dispatch emergency paramedics to your location as soon as possible.
At the scene, our paramedics will assess and treat your medical needs, and depending on severity, will transport you to the most appropriate location for care.

level or specialty
What We Do
Located in British Columbia (BC), Canada, the British Columbia Emergency Health Service (BCEHS) is the province of BC's primary emergency medical services provider for nearly the entire province. The 4,400 Paramedics and Dispatchers of the Ambulance Paramedics of British Columbia (APBC – our Union body) all work for BCEHS , and provide ambulance and 911 call-taking/dispatching service to BC's 4.9 million people.
From our three dispatch centers located in Victoria, Vancouver and Kamloops, we fielded over 550,000 calls for help each year in recent years, making us one of the largest and busiest emergency medical services agencies in the world.
Located
Where We Go
The province of British Columbia is located on the west coast of Canada, which is a landmass of nearly a million square kilometres – a land area roughly the size of California, Oregon and Washington.
Our Services
Our members work across British Columbia, providing a diverse range of paramedic services. Beyond our main licensing levels, APBC members staff several specialty teams who are deployed across the province