Critical Care Paramedic (CCP)
Critical Care Paramedics (CCPs) represent the highest level of pre-hospital and inter-hospital care available in North America. These paramedics operate with the goal of instituting and maintaining tertiary-level emergency and ICU care for the patients with the greatest need, while facilitating their transport by air, land, and sea to the appropriate medical facility.
CCPs are a specialized team of paramedics selected from the field of accomplished Advanced Care Paramedics. CCPs receive an additional 18 months of intense training before being licensed to a CCP level and are then eligible for a 6-9 month residency. A physician group oversees the CCP residency program to ensure the practitioner is safe, competent, and can function independently at the highest of standards.
This training begins with completing post-graduate nursing studies at the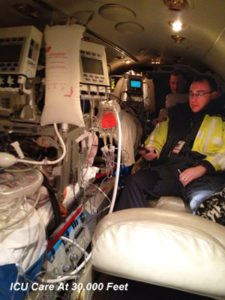 British Columbia Institute of Technology in the field of Critical Care. Paramedics then receive intense in-hospital training from physicians who have distinguished themselves in the areas of intensive care medicine, trauma surgery, respirology, anaesthesiology, emergency medicine, and infectious disease. Blocks of this training follow a simple-to-complex model and are intertwined with field practicums and high fidelity simulation training where medical theory is put into practice.
With a solid commitment to education, the CCP team endeavours not only to apply necessary treatments and care for the province's sickest patients but also to ensure a sound understanding of the underlying pathophysiology. Such training creates a team of professionals that regularly bring high-quality care to patients but also have the ability to analyze a situation critically and adapt and respond appropriately.
The Critical Care Paramedics of the BC Emergency Health Services (BCEHS) are highly educated, trained, and able to provide the best pre-hospital and inter-facility care. Working as a team, they continue to successfully transfer patients throughout the province and beyond while providing critical care to give the sickest patients the best chance of recovery.