Integrated Tactical Support Unit (ITSU)
In March of 2011, the BC Ambulance Service initiated a proof of concept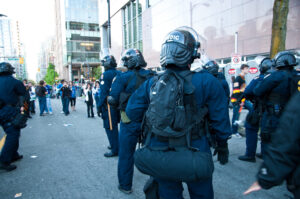 program to embed specialty-trained APBC Paramedics with the Vancouver Police Departments' Public Safety Unit (PSU.)
After an internal selection process, members went through the VPD's intake training for the PSU as well as tactical specific medical training. These Paramedics received extensive training in police tactics, crowd management, weapons and munitions as well as a tactical emergency casualty care (TECC) course.
The team went live on June 1st, 2011.
Since that time, the team has completed multiple missions, including all seven games of the 2011 Stanley Cup playoffs. Six members of the team were embedded with the Vancouver police department, engaged in tactical operations, during the June 15th, 2011 riot. Since June 2011, the unit has been deployed for several other events, including the visit of US President George Bush.
As a result of the teams work, a recommendation has been made to permanently establish the team as a provincial resource to the British Columbia Ambulance Service.