Paramedics Honour Fallen Colleagues
VICTORIA, B.C., May 6th, 2018 – Paramedics will gather on the lawn of the legislature today to remember and honour their colleagues that have made the ultimate sacrifice.  Three years ago today, the government officially proclaimed May 6th (2015) "British Columbia Fallen Paramedics Day". A granite monument bearing the name of 10 men and women who have lost their lives in the line of duty serving the British Columbia Ambulance Service was erected on the south lawn of the legislature next to memorials for Fire, Search and Rescue and Law Enforcement. The monument honouring fallen paramedics was a long-time vision of retired paramedic Lynn Klein.  Together with the Ambulance Paramedics of BC (APBC), the 10-7 Association (organization of retired paramedics), and British Columbia Emergency Health Services (BCEHS), that vision became a reality.
Currently, funds are being raised by paramedics and supporters across Canada to construct a similar monument in Ottawa commemorating paramedics across our nation who have lost their lives in the line of duty. Paramedics in BC will be riding their bikes from Osoyoos to Kamloops over four days this June in support of the Canadian Paramedic Memorial Foundation. This is the 2nd year the Paramedic Ride has been held in BC. For more information on the Paramedic Ride please visit paramedicride.ca.
 Today's memorial will be marked by the presence of both the APBC's Ceremonial Unit and the BCEHS's Honour Guard who will keep vigil at the monument. Ceremonies start at 3:00 pm with a piper from the APBC Ceremonial Unit and a minute of silence followed by a changing of the guard at 5:00 pm. "This day reminds us of the sacrifice that our ten brothers and sisters have made in the service to British Columbians," said Dave Deines, Provincial Vice President of the Ambulance Paramedics & Emergency Dispatchers of British Columbia, "having a monument not only honours our fallen, but gives the living a place to remember, a place that will stand the test of time."
About Ambulance Paramedics and Emergency Dispatchers of BC:
Ambulance Paramedics and Emergency Dispatchers of British Columbia is the union organization that represents the 4,500+ Paramedics and Emergency Dispatchers of the province of British Columbia, Canada. Please visit www.apbc.ca and www.911bc.com for more information.
For more information or to arrange an interview please contact:
 Dave Deines, Provincial Vice President
Ambulance Paramedics and Emergency Dispatchers of BC
(604) 209-0170
# # #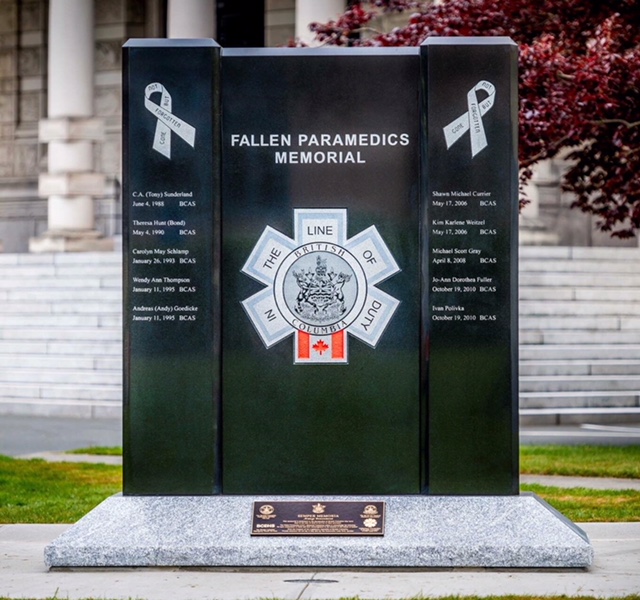 For PDF file click HERE
For image click HERE